New hours, policies & procedures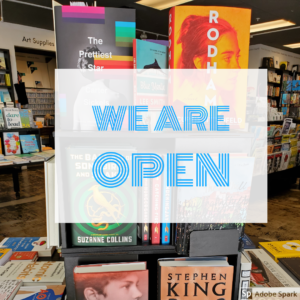 The store will be open daily from 12noon to 5pm. All people entering the store will be required to wear a mask or other appropriate facial covering. Staff will also be masked. The number of customers will be limited. Staff will be monitoring the number of people in the store and may ask new arrivals to wait to enter.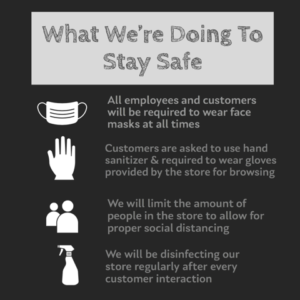 At the store entrance, we will have hand sanitizer and a table with gloves. Entering customers are asked to use the hand sanitizer and don gloves before entering to shop.
We are delighted to have shoppers back in the store, but we ask for your patience as everybody gets used to the new policies and procedures necessary to keep everyone safe from the Covid-19 virus. Please maintain social distance while in the store, keeping safely back from staff and other shoppers, except as necessary to complete your transaction.
Individuals with signs of illness such as coughing, fever or other flu-like symptoms will be asked not to enter the store.Thank you for understanding.
Private shopping appointments: We will continue taking appointments for 10am or 11am each day for private shopping. During appointments, customers will have the store to themselves. You can make an appointment by calling the store or emailing us at booksandbooks@tskw.org. Phones are staffed between 10am and 5pm each day. Please do not assume your appointment time is booked until we confirm with you.
When keeping your appointment, please only arrive with members of your household that you have been sheltering-at-home with. If you email or leave a message, please include the day, time, your name and a phone number. We will be following up to confirm appointments.
We require customers and staff to be masked in the store, and provide hand sanitizer and gloves. We disinfect surfaces before and after appointments.
---
Hours & Location
1 305 320 0208
Browsing by appointment daily 10am to 12 noon
Open daily 12 noon to 5pm
---
Not ready to join us in store (or shopping from out of town?) We are still offering shopping online and by phone, with free media mail shipping, home delivery to Key West and Stock Island and curbside pickup.
Thank you for your ongoing support! We deeply appreciate everyone's encouragement and commitment to shopping with us as we continue to navigate the changing requirements of the Covid-19 pandemic.
Place orders by phone
Staff will be answering phone calls from 10am to 5pm daily to take orders for shipping and home delivery. 305-320-0208
Place orders online
Our online store will remain open 24 hours a day for free shipping or home delivery.
Home delivery
Orders placed by noon of in-stock items are eligible for delivery to your door that afternoon, Monday – Friday to Key West and Stock Island addresses. With the store reopened, deliveries will come a bit later, but we anticipate that we will make deliveries by 7pm.
Signed and personalized Judy Blume books
Judy will continue to personalize her books. Orders placed for signed Judy Blume books will be signed reguarly and are eligible for shipping and home delivery.